Fashion's Night Out Foley + Corinna + Juicy Couture
9 September 2010
No Comment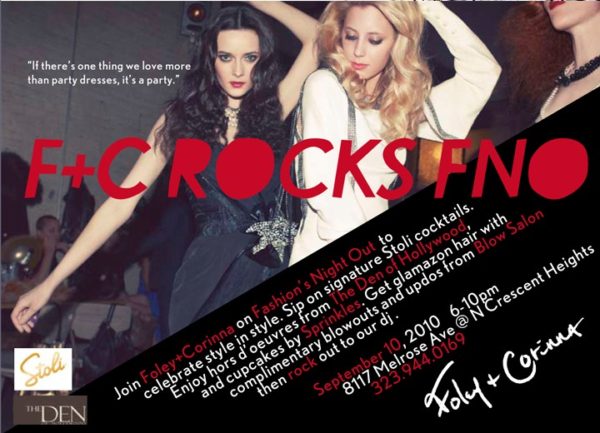 LA Fashion's Night Out Foley + Corinna & Juicy Couture
WHAT: Gather all stylistas and partygoers! Acclaimed fashion brands, Foley + Corinna and Juicy Couture are hosting a Fashion's Night Out event to celebrate shopping and fashion at their Los Angeles Stores.
The event at the Foley + Corinna store will feature signature Stoli cocktails, hors d'oeuvres from The Den of Hollywood, cupcakes from Sprinklesand complimentary blow outs from Blow Salon.
Enjoy the festive vibe while shopping to the live DJ.
The Rodeo Drive Juicy Couture store event will feature a live in-store acoustic performance by Rain Phoenix.  And of course there will be a few Juicy surprises throughout fashionable night of shopping!
WHERE: Foley + Corinna 8117 Melrose Avenue @ N. Crescent Heights Boulevard.
+Juicy Couture 456 Rodeo Drive
WHEN: Friday, September 10 at 6:00 pm-10:00 pm
Both events are open to the public.  Must be 21+ to drink.